MORGAN IS COMMITTING
to more responsible fashion and is becoming actively involved in bringing about change.
Our goal with each new season is to further reduce the environmental impact of our collections. That is why we are working to make our garments kinder to the planet by using raw materials that are produced in a more sustainable manner.
Today, the materials used for Morgan's collections are close to 31%
sustainable
Today, the materials used for Morgan's collections
are close to sustainable
We are aiming for 100% materials by 2030
WE ARE CAREFUL
ABOUT THE MATERIALS WE USE
ORGANIC
COTTON
ORGANIC
COTTON
This is a natural fibre grown in accordance with strict rules.


- No chemical fertilisers, no pesticides and no GMOs.

- Consumes half as much water as conventional cotton.
See the organic
cotton collection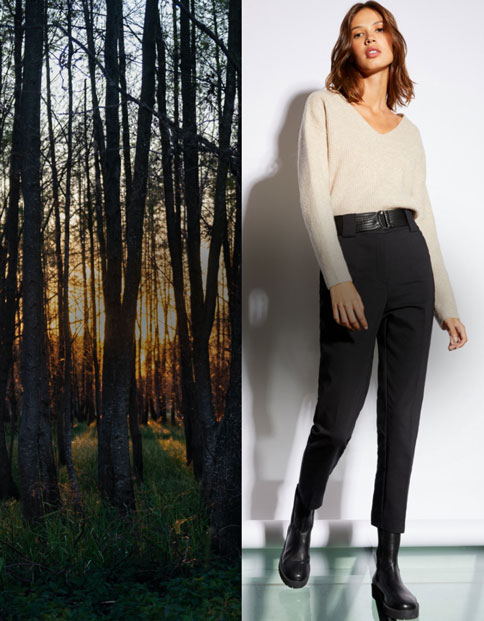 ECO-RESPONSIBLE
LENZING™ ECOVERO™
VISCOSE
ECO-RESPONSIBLE
LENZING™ ECOVERO™
VISCOSE
This is made from wood pulp.


- Consumes half as much water.

- Emits half as much carbon.

- Wood derived from sustainably managed forests.
See the sustainable
viscose collection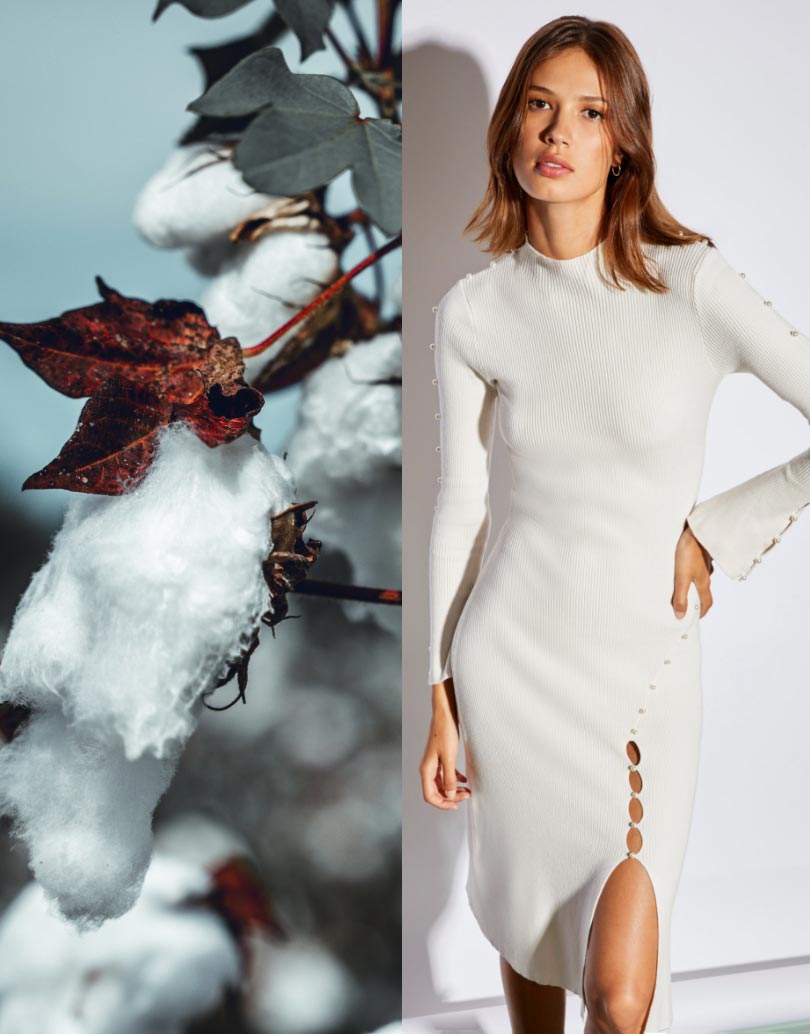 Better Cotton
Initiative (BCI)
Better Cotton
Initiative (BCI)
Morgan is committed to the Better Cotton Initiative with the aim of improving cotton-growing practices around the world. BCI cotton is derived from carefully planned and more sustainable cultivation.


- Reduced chemical products

- Better water management

- Better working conditions
See the BCI
cotton collection
MATERIALS
WE DO NOT USE
Morgan has been committed to animal welfare for many years and strictly prohibits real fur in its collections. We are proud to be a member of the FUR FREE RETAILER programme
MORGAN FASHION:
COMMITTED AND STYLISH
Openwork knitwear, lace panel, raised satin stitch detail and on-trend prints... Step by step, we are ensuring that all Morgan's iconic design codes are reinvented in eco-responsible materials in order to bring you clothes you love and that take care of the planet.
Morgan is committing to support Refashion, the textile industry's eco-organisation, in talking about the second life of clothes and footwear.
WHAT IS IT?
It's about all of us, consumers and brands, adopting the habit of giving products a second life. Because that's the way to do well, to do better, in short to do our best!
WHEN IS IT?
A big national awareness-raising campaign from 2 to 10 October 2021.
WHAT DOES IT MEAN?
Repairing, reusing, recycling and reduce the clothing textiles, household linen and footwear we no longer use.
WHY?
Because the quantity thrown away has doubled in 40 years!
WHO IS IT?
Cache Cache, Bonobo, Bréal, Morgan and Vib's are committing, together with over 70 brands and stakeholders in the textile industry, to support Refashion.
The objective: to make a second life for products an obvious choice as well as a necessity.
1kg of used textiles avoids the emission of 25kg of CO2.
Every person in France buys almost 10kg of textiles every year.
99.5% of used textiles collected will have a second life.
46 000 textile drop-off points exist in France, so there has to be one near where you live.
« Your clothes have a future,
they deserve many lives. »